I signed up for a Christmas Ornament Swap over on
Craftster
, and I was done within a week. I guess that's what happens when you aren't currently working ;)
I'll put bigger pictures up on
Flickr
when my partner receives her package.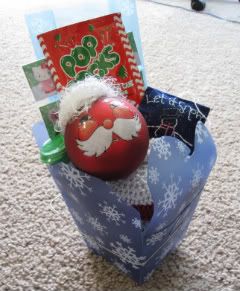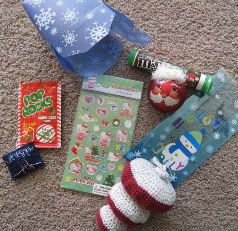 We didin't really have any specifications, except for it to be Christmas related. So I crochet a retro Christmas ornament with
Roxycraft's
awesome pattern. The pattern calls for it to be crochet in the round, but I did it in a spiral...it's just an easier technique for me. I used Caron Simply Soft in a Cranberry color, and Patons Divine Brilliant in the sparkly silver. They were out of the sparkly red, but the cranberry yarn had a sheen...so it worked. It looks much more vibrant in person, I had JUST gotten my new camera that day...so I was still figuring it out :)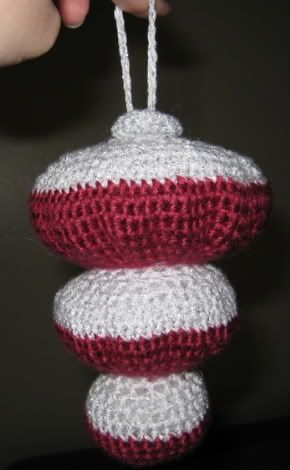 I got the santa ornament idea from her wists, there was a beautiful handpainted santa face with a white fluffy feather perfectly glued on top. Well I cannot paint that good heh, so I got those rub-on faces at Michaels and just used that. In place of the feather I just glued some white fluffy yarn. It is a little crooked, but it's still cute :)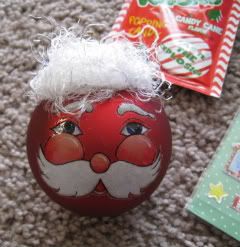 The embroiderd ornament is just a little snowman with the words "Let it Snow" above him. Super easy and it only took maybe an hour.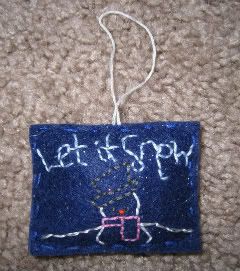 At Michaels I found some Candy Cane Pop Rocks which I thought were pretty cool, and a little tube of holiday M&M mini's. The Hello Kitty Christmas stickers are from the $1 section at Target, and the take out box I stuffed with packing peanuts for the santa ornament.
My swap partner should be receiving her package any day now, so I hope she doesn't find this post first! :)
Since I'm crazy and love crafting, today I signed up for another Christmas swap!